I might add that I had the pleasure of speaking to Dr. Shaikh yesterday. He is a man of courage who has acted to bring enlightenment to his homeland.
Younus Shaikh Free!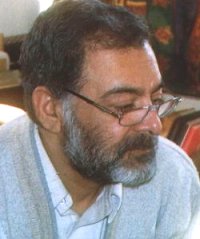 Dr. Shaikh thanks us for the support
IHEU is pleased to announce that Dr Younus Shaikh, who has been languishing in gaol in Pakistan since October 2000 and in solitary confinement under sentence of death for blasphemy since August 2001, has been acquitted and freed after an appeal and retrial.
For the past three years IHEU has led an international campaign to secure the release of our friend and colleague. Dr Shaikh was declared a Prisoner of Conscience by Amnesty International, and thousands of people worldwide lobbied their politicians and the Government of Pakistan on his behalf.
Following his release in the greatest secrecy on 21st November 2003 Younus Shaikh initially remained in Pakistan but his accusers than lodged an appeal against his acquittal, and he has now left Pakistan for Europe and safety.
Dr Shaikh
Mohammed Younus Shaikh was born in Chishtian, Pakistan on 30th May 1952. After High School he studied medicine in Multan where he qualified as a doctor of medicine, and did post-graduate studies in Dublin and London. He worked as a trainee surgeon in the United Kingdom from 1981 until 1988. He returned to Pakistan where he taught at a medical college in Islamabad.
As a Human Rights activist in Pakistan he attracted the attention of the Islamic fundamentalists. He took part in the Pakistan-India Forum for Peace and Democracy, and was a member of the South Asian Fraternity, South Asian Union and the Human Rights Commission of Pakistan. In 1990 he started a Humanist organisation called "The Enlightenment", inspired by the ideas of the European Enlightenment and Renaissance.
Kashmir
At a meeting of the South Asian Union on 1st October 2000, Younus Shaikh suggested that, in the interest of the people of Kashmir, the line of control between the Indian and Pakistani forces should become the international border. This clearly offended a Pakistani officer who responded by saying to Dr Shaikh that "I will crush the heads of those that talk like this". On 3rd October Dr Shaikh was suspended by his college without explanation.
Later that evening, an employee of the Pakistani Foreign Office, who was also one of Dr Shaikh's students, complained to a cleric, saying that on 2nd October in a lecture between 12:00 noon and 12:40 pm, the doctor had made blasphemous remarks about the Prophet of Islam. The cleric filed a complaint with the police. Younus Shaikh was arrested on the evening of 4th October and charged with blasphemy.
Trial and Acquittal
Those accused of blasphemy under Article 295/C of the Pakistan Penal Code are unable to obtain bail and are held in custody awaiting trial. If pronounced guilty, they face a mandatory death sentence. The trial of Dr Shaikh, held throughout the summer of 2001, took place in a hostile courtroom packed with Islamic fundamentalists who warned the defence lawyers: "think of your families and children". The final two sessions were held in-camera with gun-toting Pakistani Taliban waiting outside. It was finally established during the trial that the alleged events had never taken place. Nevertheless, on 18th August 2001, Dr Shaikh was found guilty and sentenced to death. Sadly, in Pakistan, such injustices are not uncommon in cases of alleged blasphemy.
For the next two years, Dr Shaikh was held in solitary confinement in a death cell in the Central Gaol in Rawalpindi. He appealed to the High Court but the two appeal court judges failed to agree. On 15th July 2002 the case was referred to a senior judge for a final decision.
A delay of more than a year then ensued before the referee judge took up the case. On October 9th 2003, this judge finally decided that the original judgement was unsound but instead of acquitting Dr Shaikh, remanded the case back to a lower court for retrial.
The retrial was held over three sessions in November 2003. In the light of the harassment and intimidation suffered by his lawyers at the earlier hearings, and much against the advice of the judge, his colleagues, his family and the members of the diplomatic community present in court, Dr Shaikh decided this time to conduct his own defence. The prosecuting counsel tried to exploit the religious feelings of the court but Dr Shaikh confined his defence to legal arguments and was finally acquitted on 21st November. He tells us that he was inspired by the defence speech of Sir Thomas More in "A Man for All Seasons". Fortunately for Dr Shaikh the outcome this time was different.
Commenting on the judgement, Dr Shaikh explained: "The judge accepted my legal arguments and found the charges against me to be baseless. My accusers, two Mullahs and some Islamist students, had lied." He described his ordeal as: "Islamic terrorism through the abuse of law and of the state apparatus."
Escape to Freedom
Dr Shaikh was released from the gaol in great secrecy, was offered, but refused, a police bodyguard, and went into hiding for several weeks, meeting family and friends and even participating, incognito, in a debate on Human Rights. He has now left Pakistan for Europe.
Many victims of the Pakistani blasphemy laws have failed to survive prison, and a number of those tried and acquitted have been murdered following their release. As recently as July 2002, Mohammed Yousaf was shot dead inside the Central Gaol in Lahore while awaiting his appeal. On 7th February 2003, Mushtaq Zafar, a 55 year-old man accused of blasphemy was shot dead on his way home from the High Court. And in June 2003, Naseem Bibi, 35, who had been the victim of a gang rape by police, was charged with blasphemy, and was murdered in prison before her trial could begin.
Even the legal profession are not immune from attack. Defence lawyers have been intimidated by fundamentalists and even a High Court judge was murdered after acquitting an accused.
This week, one of Dr Shaikh's supporters, speaking anonymously from Islamabad said:

"We may draw some satisfaction and may even feel like celebrating that our efforts in pursuing this case led to the acquittal of Dr. Sheikh, but let's not forget that as long as the Blasphemy law is on the statute book, it will continue to be misused. At this very moment there are several innocent people, victims of this black law, languishing in various jails and lock-ups of the country awaiting an uncertain future. And these victims may not be as fortunate as Dr. Sheikh was. Dr. Sheikh had a circle of committed friends inside and outside the country.
"It is also a sad reflection on the state and society of Pakistan that even when individuals are exonerated by law of any guilt, they are forced to flee the country for their safety. The state or society is unable or unwilling to provide them protection. Dr. Sheikh was not at all eager to leave the country. If he had a choice he would have stayed with his family
and friends. I could see his reluctance to leave the country written large on his face when I accompanied him to the airport."
"The bottom line is that we must continue our campaign until this draconian law, along with similar other medieval laws, is undone or at least modified to save the innocent people from its abuse."
Pakistan's infamous blasphemy laws are widely abused to make false accusations against both Muslims and members of religious minorities, such as Christians and Ahmadis, as well as innocent business rivals and political opponents. Those accused under the blasphemy laws are immediately imprisoned with no effective right to bail. If pronounced guilty, they face a mandatory death sentence. It is estimated that over 100 victims of Pakistan's medieval blasphemy laws are currently in prison either awaiting trial or already under sentence of death.
The international Humanist community calls upon President Parvez Musharraf and the Pakistani Parliament to immediately abolish these profoundly unjust laws – an ugly stain on the reputation of the nation and people of Pakistan.
IHEU London 23rd January 2004
---
| | |
| --- | --- |
| To: | mukto-mona |
| From: | fatemolla . |
| Date: | Fri, 23 Jan 2004 14:05:57 +0000 |
| Subject: | [mukto-mona] FW: DR YOUNIS SHEIKH IS FREE AT LAST! |
From: "Ishtiaq Ahmed" 
To: <asiapeace@yahoogroups.com
Subject: Dr Younis Sheikh is free at last
Date: Fri, 23 Jan 2004 14:33:55 +0100

Dear All,

We rejoice in the acquittal of Dr Younis Sheikh from all charges of
blasphemy levelled against him. Asiapeace along with many other
organizations engaged itself in the campaign for his release from a
Pakistani jail. He has apparently arrived in Geneva safe and soundly.

1.	Dr Mubarik Ali (member Asiapeace, Lahore) provides the
information and Owais Hasin (member Asiapeace, Karachi) sent it to me.
2.	Dr Maqsood Choudhry (member Asiapeace, Sanginaw, Michigin) makes
some observations in this regard.

Best regards,

Ishtiaq Ahmed
Moderator Asiapeace - An electronic discussion group

---
| | |
| --- | --- |
| To: | mukto-mona |
| From: | Jahed Ahmed |
| Date: | Fri, 23 Jan 2004 16:25:45 -0000 |
| Subject: | [mukto-mona] Re: FW: DR YOUNIS SHEIKH IS FREE AT LAST! |
Yes, indeed, it's a great day! Thanks fatemolla for giving the great news!
Cheers, Jahed Ahmed
---
From: "Abul Kasem"
Date: Fri Jan 23, 2004 7:48 pm
Subject: RE: [mukto-mona] FW: DR YOUNIS SHEIKH IS FREE AT LAST!
Our victory is not complete until the world is ridden of the barbaric Sharia and other uncivilized Islamic rules.
Heratiest congratulations to all who have worked so dilligently and unitedly for the release of Dr. Yunus Shaikh.
Abul Kasem
---